The Washington Grain Commission (WGC) promotes the small grains industry through the allocation of farmer checkoff dollars in the areas of research, market development and education. When it comes to promoting our wheat in international markets, the WGC works directly with U.S. Wheat Associates (USW), which is the export market development organization for the U.S. wheat industry. USW activities in more than 100 countries are made possible through grower contributions from 17 state wheat commissions (including Washington) and cost-share funding provided by the U.S. Department of Agriculture's Foreign Agricultural Service. This Wheat Life series features some examples of how your commission checkoff dollars are working hard to promo te, grow and maintain demand for the high-quality U.S. wheat the world has come to rely on.
Japan
Wheat market overview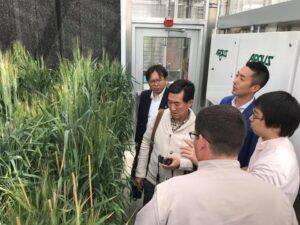 Japan has been a steady buyer of U.S. wheat for more than 60 years. The market is quality-conscious and generally mature. Wheat consumption has been relatively steady and stable at around 70 pounds per capita due to the efforts of end-product manufacturers. Although consumption of rice, a traditional staple food, has been decreasing.
The five-year average for Japan's national production of wheat is at 34.7 million bushels per year. To fill the demand deficit, Japan imports around 195 million bushels per year (three-year average). Out of this, 47 percent comes from the U.S. The balance comes from mainly Canada and Australia.
Wheat imports to Japan are controlled by the Ministry of Agriculture, Forestry and Fishery (MAFF). MAFF imports wheat from registered traders and sells to flour millers at a fixed price, which is determined every six months based on the weighted average of its purchasing cost plus a markup, which is reinvested in domestic wheat production. Japan tenders three classes of wheat from the U.S.:
Western White (WW) wheat from the Pacific Northwest, mainly Washington. Japanese confectionery, including sponge cake and biscuits, are made from WW almost exclusively.
Hard red winter wheat is for multipurpose use, including instant noodles.
Hard red spring wheat is used for bread and always competes with Canadian spring wheat.
The Japanese traditional "Udon" noodle is made from Australian wheat and Japanese domestic wheat.
The number of flour milling companies has decreased from 129 in 1998, down to the current 72 companies. The top four flour milling companies with their affiliates have about 80 percent of total market share.
The larger flour millers are diversifying to food processing, decreasing dependency on the flour business, and aggressively deploying plants internationally for flour milling, pasta processing and premix flour manufacturing in overseas countries.
Market outlook for 2022/23
During the pandemic, the flour milling industry suffered a significant loss of flour demand, primarily from lack of tourism and reduced restaurant business. The increased demand for home-use flour (including instant noodles, premix and pasta) was not enough to offset the impact of pandemic shutdowns. The Japan Flour Millers Association (JFMA) explains the reduction in overall flour consumption due to COVID-19 is about 4 percent since FY2019. There is some concern that wheat could be replaced by rice, since a significant decrease in rice demand in recent years has caused excess stock, making it cheaper.
The industry believes wheat flour demand will recover soon. However, dampening this enthusiasm are reports of rapid consumer goods inflation, including food, and its raw materials in the new fiscal year, which started April 2022.
Last September, MAFF raised the price of wheat by 19 percent. In March, they again raised prices by 17.3 percent for sales from April through September 2022. Japanese buyers are afraid that unless there are significant decreases in market prices from this point, another MAFF increase will come this September. Japanese consumers are beginning to be vocal amid rapid food inflation, but so far under the MAFF system, demand of wheat flour has been steady.
Hopes are also high that better weather could generate better production in the U.S. in the coming season, providing a better supply and more attractive prices.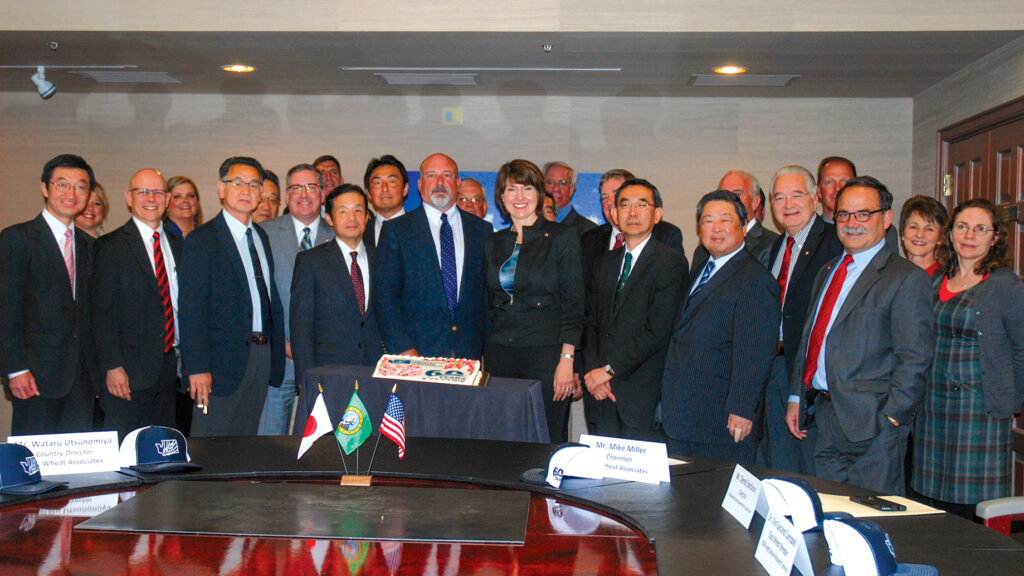 A market development success story
Japan is the largest buyer of soft white club wheat. The first indication of Asian market wheat trade dates to 1906 when Japan's Masuda Flour Milling Co. imported flour from Centennial Mills in Spokane, Wash. Pacific Northwest farmers formalized the trade relationship with Japan in 1956. Western Wheat Associates and USW have maintained a marketing office there ever since. Today, USW provides active trade service to procurement officials at MAFF and private millers who produce literally hundreds of high-quality flour products for this sophisticated market.
The Washington Grain Commission (WGC) and JFMA have been working closely since 2018 to establish and strengthen the support system for the regional club variety development program conducted at the U.S. Department of Agriculture's Agricultural Research Service based in Washington. The WGC leads the annual technical exchange based on sample analysis conducted by JFMA.
On the street
A note from Japan Flour Millers Association