By Jennifer Ferrero
The carbon footprint refers to the amount of fossil fuels a person or entity uses to live or generate something. The foodprint is how much energy or power it takes to make, transport and consume food. More people are thinking about the impact of the foodprint, and how it plays into eating, cooking and ordering from our favorite restaurants.
Bananas on the produce shelf in January in Spokane, Wash., have likely been transported from Costa Rica, over 4,000 miles away. In contrast, apples on the shelf may have come from Wenatchee to Spokane, 171 miles away.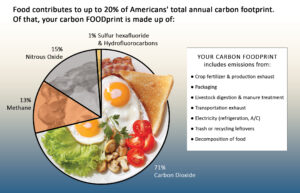 What's included in a carbon foodprint? Carbon dioxide, methane gas (decomposition), nitrous oxide (fertilizer), and electricity. It includes emissions from food, electricity, agriculture, transportation and decomposing trash. Is using less energy through transportation and production better for the foodprint of a product and the planet? Let's dive in to find out what a restaurateur, chef consultant and food scientist think of the foodprint and its impact.
The Restaurateur
Adam Hegsted is a well-known regional chef with seven restaurants, a brewery, a catering company and a commissary. He has been in restaurant ownership for nine years and the industry for 27 years. His eateries have food themes like French, Mediterranean, Spanish, modern American classic, brunch and European pub.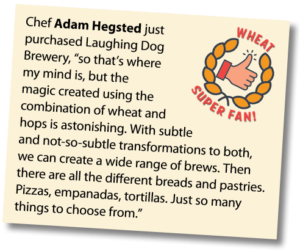 The varieties of food are endless, but the regionality of the food is specific. When Hegsted thinks about the foodprint, he said, "It's what it takes (emissions wise) to get food or drinks to our doorstep to where the food/drinks end up going."
Because of his awareness of food procurement, Hegsted pays attention to the food community and his patrons.
When developing a new restaurant, he said, "We start with the vision and the direction of the restaurant, then we start with what's local and seasonal. We take those two things and develop ideas from a combination of our experiences and the outcome of the food or drinks. Sometimes it's a traditional idea that we add modern techniques to or vice versa, take a modern technique and add elements of the traditional dish. The idea is to create something with a unique thumbprint for that restaurant in a particular time and place."
He said that these considerations set them apart from other chains or competitors. He wants patrons to have an Inland Northwest experience when they visit.
"So, when they come to our restaurants in the fall, they will find things grown or harvested in the northwest. Whether it's Mediterranean or American cuisine, it reflects the region through the ingredients we are using," Hegsted added.
Another facet of menu creation is understanding food trends and what will interest patrons. He said that to incorporate vegetables or plant options, chefs traditionally add tofu to the plate or make vegetables as a side dish. It is usually more of an accompaniment, not a main dish. However, now with the option of tapas with small plates, it is easier to focus on the vegetables as the main dish. He also suggested that because people are more excited about global cuisines, that is opening more locally grown, plant-based options. He noted that public support of ethnic restaurants like Thai or southern Indian "can demonstrate that people are responding to them, which reflects the public's openness to try new things and their awareness of specific regions and flavors in a certain country."
The Chef Consultant
Charlie Baggs of Chicago, owns and operates Charlie Baggs Culinary Innovations with his wife, Kathy. They've owned the business since 1999 and serve food ingredient manufacturers, associations and restaurant groups with menu and product development.
His customers ask, "What are 24 things you can do with barley?" He said they could work on soups, sauces, poke bowls, something Japanese, Chinese, Thai or Italian, and "we might go through Mexico and pick up a few regions" of culinary ideas.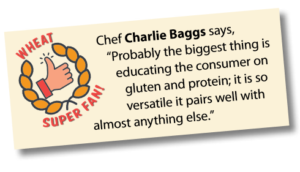 Chef Baggs consults with about 1,500 companies per year with product development. He said that food science is the foundation.
"If you want to replicate something, you must understand its science. You can measure viscosity, color, taste, aroma and texture — science gives us tools to understand 'why is this craveable?' When we see patterns, you can make food more craveable."
He added that food science will always be a foundation of manufacturing. "Food science combined with culinary is the trend we are seeing."
The carbon foodprint is something that Baggs has thought about in detail. But he said that reducing a carbon foodprint can be confusing.
"When you choose a food in January or February in Chicago, was it grown in a hot house or transported from Mexico?"
He prefers the idea of seasonal foods and foods that people can preserve.
He said that restaurant owners might pick bamboo plates, for example, when thinking about reducing a carbon footprint. But he said when they are recycled, they still produce methane gas (decomposition).
"Something that always happens is people think they are being green when they use bamboo plates. People are curious about how to help the earth."
The Food Scientist
Barb Stuckey is the chief innovation and marketing officer for Mattson, a food science company in California. She works with food and beverage clients, including some startups; mature multinational companies; commercial ingredient and food service suppliers. She said their role is to help with product innovation.
"The food system that we live in is not static. There are constant changes to the way people eat and think about eating. There are changes to the way we eat and live. Food must adapt to those changing behaviors," she reflected.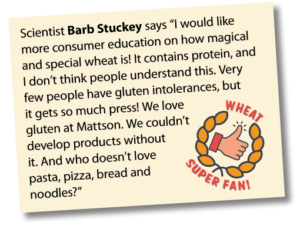 Stuckey works to launch new products that will solve problems for consumers. She also watches for innovations in agricultural technologies that may result in higher nutrition levels or provide convenience to consumers.
"Many (food companies) are mission-driven for reasons of animal welfare or environmental concern. But also, selling food that's healthy is important," she said.
There are also sustainability issues, leveraging fossil fuels and whether manufacturers can upcycle products like green banana peels into flour. She said that the most significant trend in food science is consumers are advocates for health. However, she doesn't think this means the end of convenience food.
"Sometimes people want to eat delicious, indulgent food. It's comforting. It's a form of escapism. This isn't going to go away. Cooking with nutritious foods can be inconvenient and expensive, so I think cheap, easy and unhealthy food will always exist. At least I hope it will! I can't imagine life without kettle-cooked potato chips!"
She remarked that people buy food based on ingredients and labels and "on personal belief and different dietary and convenience needs."
Another consumer trend is "being more mindful of the things in your life, and how they impact health, emotion and footprint. Some recognize intolerances to food or that the food that they've loved is not a sustainable product. A lot of Gen Z are concerned about the environment and are making purchase decisions on sustainability," she said.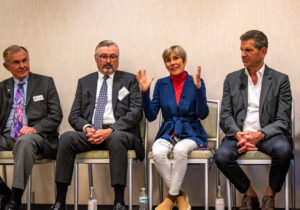 She said that much of carbon footprint is related to food.
"Our estimates are 15-25% of your personal greenhouse gas emissions is related to your foodprint. This starts at the agricultural level and how foods are distributed. There is water usage and fertilizer usage; there is more distribution to get them to market; refrigeration or freezing where foods are stored or held, which is a huge carbon foodprint."
Last, she said that keeping food fresh and food waste are two big contributors to the foodprint. "It goes from the consumer's home into a restaurant; there are more greenhouse gas emissions there from growing to consuming change. The largest percentage share of food waste happens at the consumer's household level — more is wasted at the household level than anything else."
In Summary
Food scientists, restaurateurs and chefs are working to understand consumer preferences and trends. Creating new technologies to reduce the "foodprint" through more seasonal and sustainable food impacts farmers, families and restaurants. But there is also much going on with new food development to encourage better health, fewer food allergies and other preferences. Personal beliefs and biological/nutritional factors are at play in developing fresh foods and what is served on our plates, bamboo or otherwise.