"The feed barley market is not going to return, but I believe malt barley, which brings a price nearly double that of feed, will increase in demand," Robert Brueggeman told Wheat Life earlier this year.
As corn took over the feed market, Washington barley acreage plummeted. According to Brueggeman, in 2020, a dismal 70,000 acres of barley were harvested in the state. Thirty-five years ago, in 1985, barley production in Washington state stood at nearly 1.2 million harvested acres.
This is why he started the Malt Quality Lab with funding from the Washington Grain Commission (WGC).
Brueggeman holds an endowed chair in barley research and education with Washington State University (WSU). The focus of his breeding program is the development of high-quality spring and winter malting barley varieties that are widely adapted to diverse regions of the state.
The importance of a malt quality analysis lab at WSU to provide service to the regional craft malting, brewing and distilling industries arose from discussions between WGC Vice President Mary Palmer Sullivan and Aaron MacLeod, who runs a quality analysis lab of his own, prior to Brueggeman taking the helm of the WSU barley breeding program in August 2019.
"As the Robert A. Nilan Chair of Barley Research and the WSU barley breeder, I would like to see our state become a major producer of malting barley for both domestic and international use," Brueggeman said.
This goal made a significant step forward in October. The new, state-of-the-art WSU Malt Quality Lab, located on the Pullman campus adjacent to Brueggeman's barley breeding and molecular lab, has finally begun analyzing material. The lab was originally scheduled to be up and running in February, but between delays in delivery timelines due to COVID-19 and some challenges with getting the lab space configured appropriately for the new equipment, the lab is just getting going.
Part of getting everything up to speed involved training on the new equipment for Brueggeman and his lab staff, so he called on Aaron MacLeod.
MacLeod is a grain and malt quality chemist and has been involved with malting and brewing quality testing and research for more than 15 years. He was the founding director of the Hartwick College Center for Craft Food Beverage located in Oneonta, N.Y. The center is a resource for quality testing, research and education that supports small and midsized breweries, malthouses, farms and other craft food and beverage producers. MacLeod was previously responsible for providing quality assurance for malting barley grown in western Canada for the Canadian Grain Commission's Grain Research Laboratory, where he conducted research on factors affecting malting barley quality and quality measurement methods.
MacLeod spent a week in Pullman with Brueggeman and his staff and then presented an advanced malt quality workshop on Oct. 1 for farmers, maltsters, brewers, distillers and scientists.
WGC barley representatives Kevin Klein and Ben Barstow were among the 27 who participated in the workshop, along with WGC staff, Palmer Sullivan and Lori Maricle. MacLeod covered key metrics of selecting barley for malting, the impact of agronomic and environment on grain quality, understanding malt quality analysis and the impact of malt quality on brewing and distilling performance. The hands-on portion of the workshop gave participants the opportunity to evaluate four different types of malt and their corresponding styles of wort.
One very clear takeaway from the malt quality workshop was that malting is not easy. In order to create a good malt with maximum levels of enzymes needed for the brewing process, exacting specifications need to be met at every stage, from the way the crop is harvested (to be free of foreign materials, including other cereal grains) to how long the completed malt is stored. Proper crop rotation can help producers reduce mixing of other cereal grains and minimize disease. MacLeod recommends rotating barley after soybeans or legumes, but not planting barley after barley or following corn or wheat.
"The plant breeder's job is to make the maltster's job easier," MacLeod said. Quality labs like Brueggeman's allow breeding programs to better select for quality traits and allow maltsters to better select varieties for their purchasing contracts. Having barley quality data is key for maltsters to deliver orders to brewers.

Large commercial brewers, like Anheuser-Busch and Molson Coors Beverage, have their own vertically-integrated malt quality testing capabilities. But many midsize and craft malthouses must collect their own quality data through separate malt quality labs. There are roughly 20 malt quality labs in the U.S., but not all of them provide services to external sources. MacLeod's center at Hartwick College is one of the four U.S. universities that have a malt quality lab. WSU's new lab is one of those four, allowing Brueggeman to not only process material for his own breeding program but have the capacity to provide quality analysis as a service to others.
The WSU Malt Quality Lab will be able to accept samples for quality testing soon.
Brueggeman's breeding program aims to develop varieties that can make the American Malting Barley Association's recommended list so large malting facilities like Great Western Malting (with facilities in Vancouver, Wash., and Pocatello, Idaho) will contract for the varieties. However, the craft brewing market is still a consideration. Having a malt quality lab that can provide barley quality testing services in Washington is a major boon for the Pacific Northwest craft brewing community.
According to MacLeod, there are more than 400 craft breweries in Washington that make more than half a million barrels of craft beer a year. Overall, craft breweries only account for about 13 percent of the total U.S. beer production, but their recipes take 25 percent of the malt. Currently, the U.S. imports some barley from Canada to cover domestic brewing and distilling demand.
Malt can be stored for up to a year in some cases, but it will lose freshness in storage. Having more craft malthouses in the Pacific Northwest, like LINC Malt based in the Spokane Valley, will increase the supply of fresh malt nearby. Brueggeman hopes that his breeding program can, in turn, increase the number of malt-quality barley bushels that are available to malthouses from local farmers, making a complete "farm-to-pint" supply chain in the Pacific Northwest.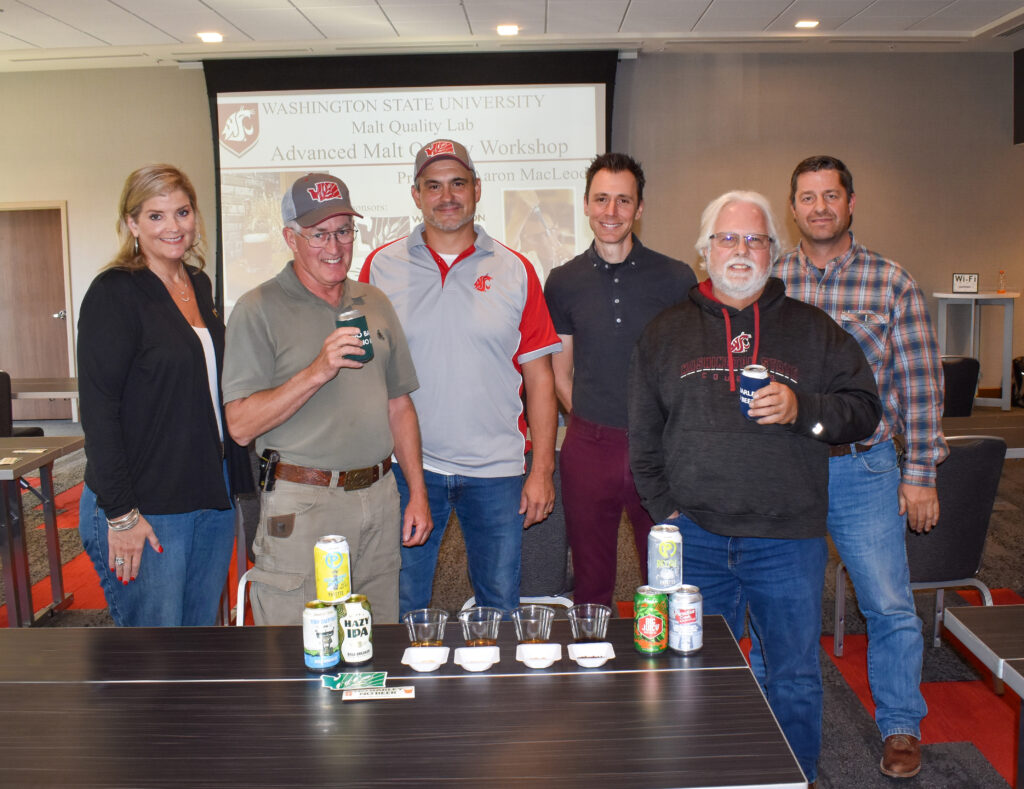 ---
This article originally appeared in the December 2021 issue of Wheat Life Magazine.