By Trista Crossley
Teachers generally do the educating, but last month, a group of University of Washington (UW) faculty members found themselves on the other side of the desk when they visited Sen. Mark Schoesler's Ritzville farm to learn about the Washington wheat industry.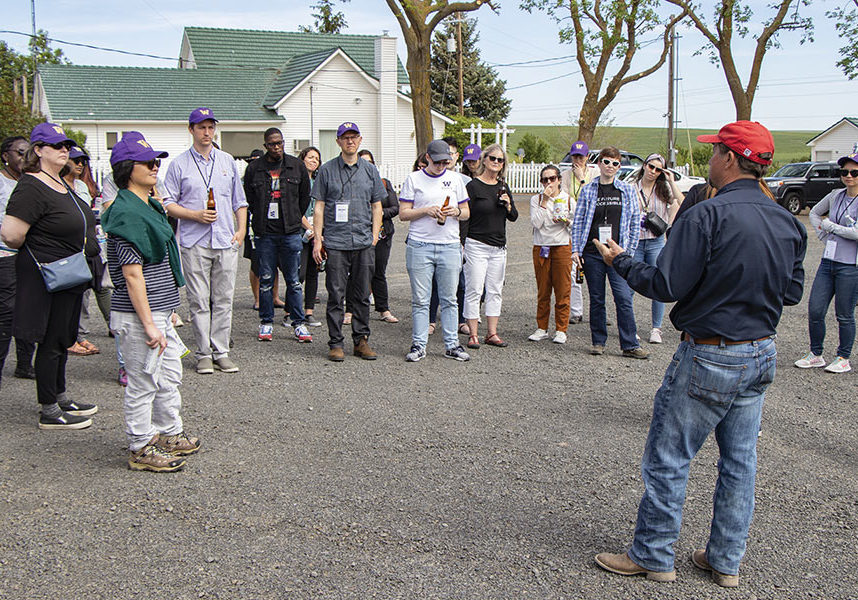 The visit was part of UW's Faculty Field Tour and is open to faculty hired in the last two academic years, said Jennifer Johnston, UW special projects director. The group spends a week traveling around the state, learning about Washington's history and industry. Schoesler's farm has been part of the itinerary for at least a decade, he estimated.
One of the highlights at the wheat farm is showing off the "really cool, big toys," such as a self-propelled field sprayer and a hillside combine. Schoesler and his employee, Colby Schell, explain how the equipment and the precision ag components work.
"I think the precision ag part is a real positive for them, that we are doing things in a modern way and that we are stewards," Schoesler said. "There's the usual questions, such as where do you sell wheat, where does wheat go, what is it used for, that are standard things that producers all understand."
Schoesler also talks to the groups about the changes the ag industry has seen, particularly in the size of the equipment and the technology.
"We get some very interesting questions. One of the things they (tour members) are really very knowledgeable about — a lot of them have research and science backgrounds — is you mention that Clearfield wheats and CoAXium wheats came through the Crispr technology and aren't GMOs. They know more about Crispr than many. They are the people who use that technology, so they get excited when you talk about how that science works."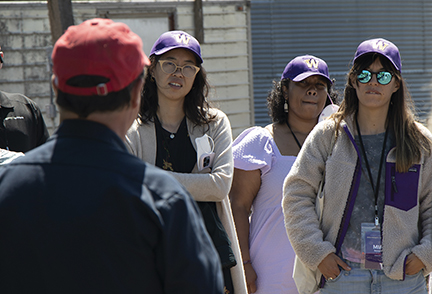 Members of the tour group left Ritzville with wheat-themed products provided by the Washington Association of Wheat Growers. Besides the Schoesler wheat farm, the group also stopped at the UW-Gonzaga Health Partnership's new medical school facilities in Spokane, Grand Coulee Dam and a farm workers clinic in Yakima.
While the faculty members are learning about the wheat industry, Schoesler said he also gets something from the visits, namely a reminder that not everybody thinks the same way as the 9th Legislative District or the Senate Republican Caucus. He hopes the visitors leave his farm with a better understanding of the struggles wheat farmers have and the steps farmers take to protect the environment.
"(Wheat farming) is not an easy business to succeed in, and we are good stewards of the land and the environment," he said. "Case in point, when they drive from my place to town, they can see reclaimed water being applied. They can see CRP (Conservation Reserve Program) in sensitive areas."
All photos Courtesy of University of Washington UMAC