Don't let the hairnet fool you, this is no small-town lunch counter.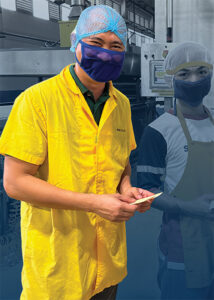 "These [USW] guys really know their wheat," says Elver Lagamon, national sales manager for RFM Corporation in Manila.
But if you are a small-town baker in the Philippines who is interested in scaling up your production, you are just the type of person the U.S. Wheat Associates (USW) technical programming staff wants to talk to. In Manila, this is Ady Redondo and Gerry Mendoza. These two are the milling and baking experts who maintain the market for U.S. wheat and find new ways for bakeries to expand in the Philippines. Redondo joined USW in June 2019 and has been an emerging powerhouse in promoting U.S. wheat in the region.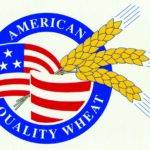 Promotional efforts, like the American Wheat Quality Seal, have helped drive public awareness, but the main resource the country's emerging baking industry needs is education. And this is another game strategy in which Redondo shines. Redondo's skills are a valuable resource at all levels of the industry, from home kitchen entrepreneurs learning inventory management to the largest cracker manufacturer in the country looking to dial in their equipment.
For commercial bakers hoping to expand, understanding of continuous machinery is critical. "Otherwise, you throw away a lot of dough," Bien Ah said during an interview in January. He is a past president of the Filipino-Chinese Bakery Association Inc. (FCBAI).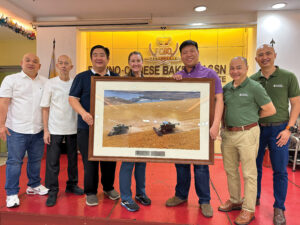 There isn't a local school for industrial baking; FCBAI and USW are it. "We cannot live alone in this world, you need to have friends. USW is the resource," Ah said. "We are very proud to say we were the first to use the U.S. quality seal."
Back on the commercial side, Redondo consults on the equipment lines. "Fine tuning temperature settings and other engineering fine tuning makes the baking lines more consistent, and consistency means success," says Keng Sun Mar, whose family founded Monde M.Y. San Corporation (Monde), maker of SkyFlakes and Fita brand crackers, among others. He consults often with USW, who, he says, "puts words into action," and emphasized the importance that there's a follow-through from USW after a discussion. The market leader in the Philippines for crackers is looking for quality and consistency, and quality control issues are a key place where USW service helps, he said.
"Exchange of information is critical," Mar said. This is especially important at Monde, where they are hoping for continuous business success as the next generation takes over.
"There's no limit to Ady's ability to add value to USW."
Inspired to Help by Hard Work and a Hero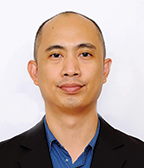 Growing up on his grandparents' small farm in the Philippines, Ady Redondo learned that hard work is a great motivator. At his elementary school, lessons about a Batangueño hero added inspiration to Redondo's interest in science.
"There is a local hero, Maria Orosa, the first Filipino woman scientist, who comes from the hometown of my mother," he said. "She used her wits and science to help the victims of WWII. She inspired me to study food science instead of information technology."
Among Orosa's inventions is the protein powder soyalac that she smuggled into prison camps during the war. Read more about Redondo's background here.
This article was originally published in June 2023 as part of the Washington Grain Commission's Milling and Baking Expert Profile Series in Wheat Life Magazine . The series features technical experts from U.S. Wheat Associates (USW) who are stationed around the world and provide customer service, consulting and education for the companies that import U.S. wheat. USW is the export market development organization for the U.S. wheat industry.