By Glen Squires, CEO, Washington Grain Commission
Our mission, to enhance the long-term profitability and competitiveness of Washington small grains, rests on the three pillars of research, marketing and education. Part of our marketing efforts involve focusing our research and education materials on those at the end of the "grain chain," the people and companies who use the flour made from the wheat predominantly grown in the Pacific Northwest (PNW). Since roughly 90 percent of Washington's wheat is exported, we work with U.S. Wheat Associates (USW) to identify, target and then maintain relationships with these importers on behalf of Washington farmers.
The U.S., and especially the PNW, has a reputation for producing the highest-quality grains every year. This consistency, year after year, has become an important factor in maintaining loyal import customers. The world has come to rely on Washington's wheat.
Why market development matters
With slim beginning stocks and yields down in the PNW, other parts of the world are having bumper crops this year. Companies who have made purchases in prior years may look to other regions to fill their supply needs.
"In the past year, soft white has become the most expensive wheat coming to countries in Southeast Asia. Meanwhile, this region remains under severe COVID-19-related lockdowns that are decimating disposable incomes," Joseph Sowers said. Sowers is the USW regional vice president for South and Southeast Asia. "Freight prices are also much higher, helping increase landed soft white prices in the region to more than double levels seen a year ago. Consumers can't pay more for products, and governments are encouraging millers to keep prices stable."
At the same time, protein content in the soft white harvest is running at 11.3 percent versus the five-year average of 9.8 percent.
"The elevated protein levels will have significant impacts on soft white millers, requiring them to revise purchasing and milling practices to produce flour that meets their customers' requirements," Sowers said.
He has been a presenter and key logistical coordinator for some of the market development activities the Washington Grain Commission (WGC) has been involved in this year. Market development activities, especially in a challenging year like this one, play a key role in maintaining and increasing understanding of how to leverage soft white in all kinds of products.
"For many end-product manufacturers, especially those making biscuits and cakes, there really aren't any substitutes for U.S. soft white," Sowers said.
So, if our goal is to provide the world's best grains, what happens in a year of unprecedented drought and record-setting heat that makes providing the "best" seem, well, almost impossible?
The good news—even in a bad year, PNW grain is still some of the best in the world. Our producers are second-to-none when it comes to incorporating customer feedback to improve crop quality, water conservation, chemical reduction and soil health. And there are tools our milling and baking customers can use to maintain the end-use quality they have come to rely on.
USW is committed to support the industry by responding to the many challenges faced this year through providing the most timely, transparent and comprehensive information possible. It is important that buyers understand why substituting wheat from other countries for high-quality soft white wheat from the PNW may impact the quality of their products.
The WGC has been an active partner in these activities.
Promoting the world's best grains
With no overseas travelers visiting the PNW, the WGC worked with the Idaho and Oregon wheat commissions to provide current information regarding crop conditions and development—and other aspects of the industry—during USW webinars and events throughout the year. Our main message on these presentations to Japan, Taiwan, Korea, China, the Philippines, South Asia and Latin American buyers is that drought and heat impact protein and supply.
In June, for example, the Washington, Idaho and Oregon wheat commissions and USW hosted the Soft White Wheat Quality Summit virtual program for Asia buyers over two days. Last held in 2008, this meeting brought together more than 220 participants, including breeders, end-use quality managers, millers and commercial bakers from several North and South Asia markets to learn from each others' needs and capabilities. We heard an overview of the market and quality requirements for sponge cake from Nisshin Flour Mills. Nisshin is one of the four largest flour milling companies in Japan, and we later hosted a team from the company's North America operations for an in-person crop quality tour across Washington, Idaho and Oregon this August.
The summit provided very good content and video of WSU breeding facilities and the U.S. Department of Agriculture's (USDA) Agricultural Research Service Western Wheat Quality Lab (WWQL). WSU's Dr. Arron Carter and USDA's Dr. Craig Morris gave good presentations on the complexities of breeding and extensive quality analysis at the WWQL that enhances the breeding line development. Market representatives from overseas provided discussion on needs for soft white wheat for their respective markets and end products. The unique versatility of soft white wheat in satisfying the needs of a myriad of products became abundantly clear. When it comes to soft white, one comment often heard from end users is, "we like the quality. Don't let it become degraded."
This kind of country-by-country and even buyer-by-buyer feedback is critical to informing the future direction of our WGC-funded research and wheat-breeding programs. USW's Vice President and West Coast Director Steve Wirsching provided an excellent overview of how using Solvent Retention Capacity (SRC) really can be a better way to determine end use beyond protein. Oregon producer and USW Chairman Darren Padget provided closing remarks, including crop conditions in the PNW from a producer perspective.
This event showcased one of the stars of Washington's wheat lineup (soft white) and helped us maintain connections with millers and bakers from Korea, Taiwan, the Philippines, Japan, China, Indonesia and Thailand. Collectively, this group accounted for 71 percent of our region's soft white exports last year. And according to USW, millers in South and Southeast Asia account for nearly half of global soft white wheat sales annually.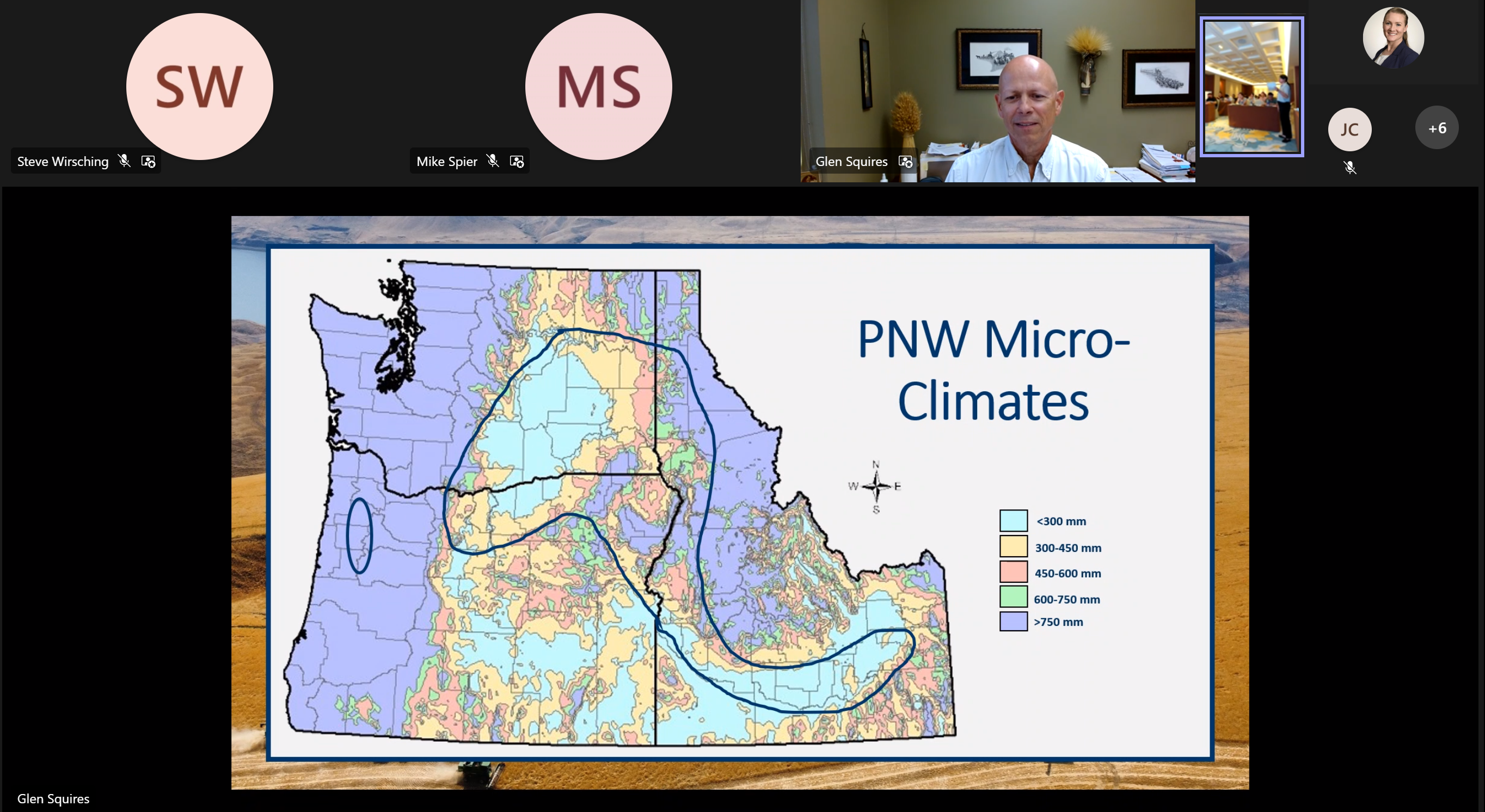 In July, the WGC joined the Wheat Marketing Center and USW for the China Contracting for Wheat Value Workshop. Over three days, participants learned about the world and U.S. wheat supply and demand. Wirsching gave a U.S. wheat market overview, including using the USW Crop Quality Report as a guide to wheat quality specifications. Brian Liedl, WGC commissioner and United Grain Corp. director of merchandising, provided an excellent overview with a lot of detail on the market and current situation from an exporter's perspective. I provided a crop update on soft white and conditions leading to higher average protein. Interestingly, nearly every question following my presentation centered on club wheat (China purchased more than 330,000 tons of straight club last year). Bon Lee from the Wheat Marketing Center conveyed an update on samples received to date, including protein average and test weight. He also noted that the range observed appears much wider this year than from past years.
Providing this information to our customers overseas is part of why the U.S. has such an excellent reputation for transparency and consistency when it comes to the high-quality supply of wheat they have come to rely on.
On the domestic side, the WGC worked with the International Association of Operative Millers in July to have renowned cereal chemist Dr. Art Bettge provide information to participants at the Western District meeting in Spokane. He discussed how flour ash has traditionally been used as a measure for bran contamination and milling efficiency. However, this method does not reflect end-use functionality (mixing and baking) in the final flour. He detailed how SRC analysis is a method that is becoming more widely used in commercial mills as a means to blend mill streams into functional flours, yet uses the entirety of mill output.
In September, the WGC paired up again with USW/South Asia to host a webinar for regional millers, including Indonesia, the Philippines and Korea, covering the most updated outlook for 2021 soft white production and quality. WGC's Program Director Joe Bippert provided an excellent overview on the harvest; current, on-the-ground reporting of soft white yields; an outlook for total supply and grain quality; and explained how drought conditions have resulted in higher prices and protein levels. USW technical specialists Roy Chung and Ivan Goh provided solutions available to millers to help them manage the higher protein content in this year's soft white and help them produce flour to meet their customers' expectations.
These last two events are prime examples of our educational efforts so millers and end users know about and implement processes, such as use of SRC and stream analysis, in meeting end-use needs to get the most out of their wheat. Technical assistance provided by USW, the WGC and others ties together long-term profitability and competitiveness for producers and users of our wheat.
Some customers have chosen to adjust tender specifications to account for higher average protein and a smaller crop, and others may follow. On a short supply, this could help enable the industry to better complete orders through the end of this marketing year.
"Thanks to the successful, long-term investment in soft white breeding and marketing, the milling and baking industries across Asia have come to depend on the unique characteristics of soft white," Sowers said. To which I would like to add, thanks to our Washington farmers for their commitment to growing the world's best grains.

---
This article originally appeared in the October 2021 issue of Wheat Life Magazine.