Legend in wheat continues quest to bring better flour to the world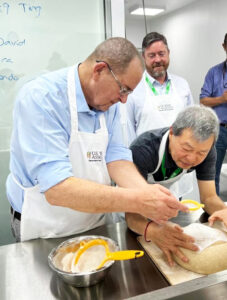 The humble apron doesn't convey the storied career Peter Lloyd built over four decades as an invaluable resource around the world for commercial millers and bakers. But that's just fine with him.
His job title, regional technical director, does not do justice to his global responsibilities. Based at the U.S. Wheat Associates (USW) office in Casablanca, Morocco, Lloyd travels the world to conduct technical support that helps prove the value of U.S. wheat.
"Our objective remains the success of the people we support," he asserted. "Why? Because successful millers and bakers are most likely to buy what we have to offer: high-quality wheat from high-quality farmers to produce high-quality flour for high-quality products."
Lloyd grew up around wheat and milling. "Having a master miller for a father, and a wheat farmer's daughter for a mother set the foundation," Lloyd said. "An early career in flour mill engineering, then applied research and development in Denmark sharpened up the technical skills learned, along with the experience and challenges of starting one's own business."
"I have the best job in the world."
Lloyd first joined USW in 1991 to manage responsibilities for developing a new Egyptian milling school in Cairo and see it through its first two years of operation. He directed construction and curriculum development and discovered a love of teaching that he would take with him the rest of his career.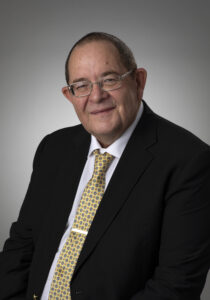 After a stint at the Wheat Marketing Center in Portland, Ore., he returned to the UK and consulting work in 1998.
"Working with the director, Bob Drynan (who had also worked for USW and the California Wheat Commission), wheat growers, the grain trade, and the researchers at USDA and Washington State University was one of the most enjoyable periods in my career," Lloyd said.
Over the next two decades, Lloyd's professional curiosity took him from Casablanca at the Moroccan Milling Training Institute (IFIM) milling school, through Dubai to pick up new updates in mill operations, returning to USW in 2005 to run the Tunisian Outreach Program, and then back to Casablanca where his work in support of U.S. wheat export market development in North and South Asia, the Middle East, Africa, and occasionally Latin America and Europe, continues today.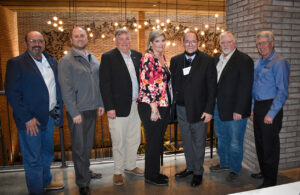 The variety of countries, technical skill levels, and technologies make his role a totally unique experience, "as are the wonderful colleagues I have the chance to work with," Lloyd said. "We don't buy anything or sell anything. There is no 'order book' to fill. We can give our honest opinion to a customer about what we would do in his shoes, and he can choose to take that advice or leave it."
Lloyd can attest that USW is a trusted partner for many customers globally, "the result of many decades of dedication from my predecessors," he said.
"USW is the best organization I could hope to have worked for. We are a small team but a strong team, with a unique strength in the 'people-to-people business' that makes up what we do. That I can do what I love from within a framework at USW where I feel valued, trusted, safe, and welcome all add up to having the best job in the world," Lloyd said.
This article was originally published in July 2023 as part of the Washington Grain Commission's Milling and Baking Expert Profile Series in Wheat Life Magazine . The series features technical experts from U.S. Wheat Associates (USW) who are stationed around the world and provide customer service, consulting and education for the companies that import U.S. wheat. USW is the export market development organization for the U.S. wheat industry.