By Madison Roy
Agricultural Economist, Washington State Department of Agriculture
By Dani Gelardi
Senior Soil Scientist, Washington State Department of Agriculture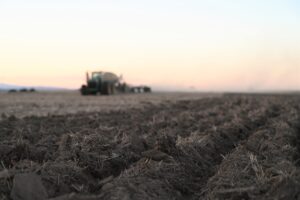 In 2022, the Washington State Department of Agriculture (WSDA) conducted a survey of Washington wheat growers as part of the Washington State Soil Health Initiative (WaSHI) — a coordinated effort to improve the health of Washington's soil through research, education, policy support and grant opportunities. We recognize that Washington's growing regions are diverse and production practices vary greatly. The results of this survey, discussed below, do not reflect the nuances of production and are instead intended to provide broad insight into soil management across Washington. Thank you to all who participated in the survey. This research helps advance knowledge and communication about Washington wheat production and soil health.
Agricultural producers are the primary stewards of land in Washington state, managing over one-third of Washington's total land mass. Washington wheat producers have long recognized the value of managing soils in ways that increase crop yield and quality, while minimizing wind and water erosion, improving water-holding capacity, and reducing issues like soil compaction and weed pressure. Various soil health management practices, each with their own benefits and costs, can be used to enhance soil health. Practices include reduced tillage and no-till, cover cropping, the addition of organic matter and lime, and livestock integration.
The public recognizes and values the role of soil management in the mitigation of climate change and in supporting wildlife, recreation and rural livelihoods. Healthy soils provide benefits to farmers and the public.
Despite this, however, the uptake of practices which promote soil health is fairly low across the U.S., with only 3% of all farm land under cover crop, and 34.6% farmed using no-till1. This is because successful soil health management depends on factors such as location, precipitation and farm size, as well as economic factors, including changes in costs and cash flows. Producers must ask themselves, does this management practice provide greater long-run benefits than short-run costs?
To better understand the benefits and challenges of various management practices in dryland wheat production, WSDA conducted a soil health survey in May 2022. According to survey responses, improving soil health is the number one motivator for cover cropping, reducing tillage and no-till, integrating livestock, and incorporating organic matter or lime. Of producers who practice reduced tillage or no-till, 88% reported improvements to runoff and wind erosion, 71% reported improvements to soil moisture retention, and 45% reported improvements to compaction. Managing for soil health can have practical benefits!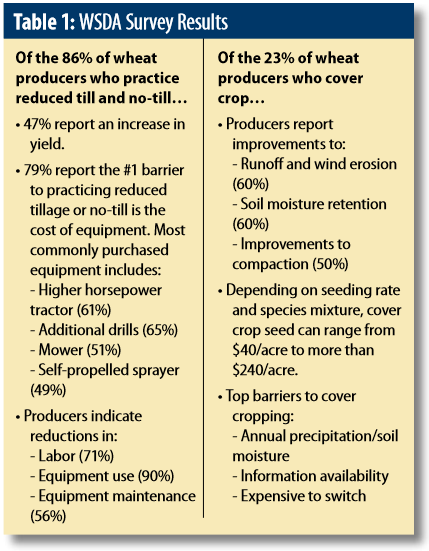 Despite such benefits, only 15% of survey respondents incorporate organic matter, 5% integrate livestock, and 3% cover crop. Unsurprisingly, producers reported that costs and lack of information are the top barriers to implementing soil management practices. Lack of information, including region and climate specific knowledge, can deter producers from integrating practices such as cover cropping and livestock grazing. Producers also indicate that considerations such as costs of fuel, labor and inputs, and availability of cost share or incentive programs are major drivers when considering new management practices. Changing growing conditions also play a role in decision making. Table 1 provides additional insight into the results of the survey.
An important lesson learned from this survey is that cost is a barrier to integration of reduced tillage and no-till, whereas lack of region- and climate-specific knowledge is a barrier to cover cropping. This data helps WSDA communicate with the public and policymakers about the nuances of dryland wheat production so that we can advocate for programs conducive to Washington wheat producers. For example, programs such as the Washington State Conservation Commission's Sustainable Farms and Fields can provide grants to farmers to aid in expenses associated with switching to no-till. Furthermore, it's clear that more technical assistance is required for widespread adoption of cover crops.
Researchers, communities and policymakers are increasingly interested in the role of soil management in carbon storage, greenhouse gas reduction and enhanced ecosystem function. Healthy soils provide benefits to producers and to the public. Farmer participation in surveys, sampling projects and listening sessions helps advance knowledge about the benefits, challenges and barriers to soil health management, and how WSDA can best serve its stakeholders.
For more information about how WSDA and WaSHI are working to protect soil health and rural livelihoods and to learn more about how to get involved, visit WSDA's WaSHI webpage.
1. Steven Wallander, David Smith, Maria Bowman, and Roger Claassen. Cover Crop Trends, Programs, and Practices in the United States, EIB 222, U.S. Department of Agriculture, Economic Research Service, February 2021