The main objectives of the Washington Grain Commission (WGC) are organized under the strategic pillars of research, marketing and education, but we wouldn't be doing justice to enhancing the long-term profitability and competitiveness of Washington small grains and our grain producers without also working to help our local communities thrive.
The topic of participating in local humanitarian aid came up in May 2021, as the COVID-19 pandemic stretched into its second year of disruptions and health-safety measures. It was then the WGC board of directors voted to donate $7,500 to Second Harvest in Spokane, a nonprofit that supplies a network of partner food banks, meal sites and other programs feeding people in need in Eastern Washington and North Idaho.
The reasoning behind the action was simple: farmers feed people. Our Washington ag community has a strong sense of taking care of each other. Since most of Washington's wheat gets exported, our producers wanted to make sure that the economic gain from those exports was contributing to supporting those in need in our local communities. Our partners at HighLine Grain Growers heard about the effort and donated an additional $1,000 to boost the impact.
The popular ag series, "Washington Grown," did a segment on the donation, which aired in March and can be viewed online at wagrown.com/watch.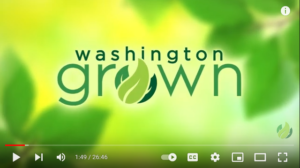 This not the first time Washington grain growers have organized to help their local communities. In 2012, the Washington Grain Growers Against Hunger campaign made it easy for farmers to turn bushels donated into direct contributions to Second Harvest through partnerships with local elevators (KREM2 covered the story). As the long-tail effects of COVID-19 set in, the WGC board is looking at partnerships with other organizations to potentially donate wheat for milling or some other model to provide wheat-based products to Washington's hunger-relief organizations.
This year, the WGC is collaborating with the Washington State Department of Agriculture (WSDA) to help spread the word about the various food assistance programs the agency coordinates. These programs provide new markets and opportunities for growers and partners to sell and donate products. Current opportunities include:
To receive updates about new and existing opportunities, consider following WSDA on social media, the agency's blog, Ag Briefs, or signing up for one of WSDA's Agrinews-WSDA listservs. You can also visit WSDA's Hunger Relief Resources webpage for resources related to donations, grant opportunities and food purchasing.
This article originally appeared in the February 2022 issue of Wheat Life Magazine.
Madison Roy, agricultural economist with the WSDA, and Joe Bippert, for the Washington Grain Commission, contributed to this article.