Keeping Pacific Northwest varieties in top form
The Washington Grain Commission is pleased to provide the 2023 wheat quality rankings for the Pacific Northwest.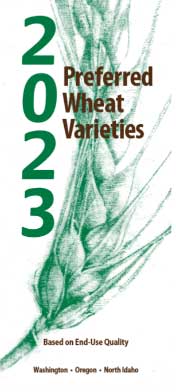 The Preferred Wheat Varieties publication ranks Eastern Washington, Oregon and Northern Idaho wheat varieties using six components to evaluate quality.  Washington was the first state in the U.S. to rank varieties for quality, with Oregon and Idaho joining the effort soon after.
The new entries for soft white winter wheat are Nimbus, Jameson and AP Exceed, all rated Most Desirable, and LCS Jefe and Inspire, both rated Desirable. There were two hard red winter entries, Guardian, Most Desirable, and LCS Helix AX, Acceptable. There was one new spring club entry, Roger, rated Most Desirable. It was a better crop year in 2022 than 2021, which allowed more locations to be tested as they met market class standards. With nearly all the new entries at the Desirable and Most Desirable levels, we continue to hold steady with the high quality in the Pacific Northwest that our customers expect and appreciate.
These rankings are based on the results of the G&E quality testing conducted by the U.S. Department of Agriculture's Western Wheat Quality Laboratory, the Washington State University Wheat Quality Program, the University of Idaho Wheat Quality Laboratory, and the Oregon State University Cereal Quality Laboratory, including relevant breeding nurseries.
The quality scores presented here reflect a minimum of three years' data in the G&E Study, using a reference variety for each class. Therefore, varieties may be in commercial production before they are included in the list. The list is reviewed annually and includes the top varieties currently in production.
End-use quality determinations were based on results from grain, milling and product quality tests. The Most Desirable ranking characterizes varieties that have high test weights, appropriate protein content (kernel properties) and excellent milling and end-use properties. Desirable ranked varieties range from good to very good kernel, milling, and end-use qualities. Acceptable varieties have qualities ranging from acceptable to good and may contain potential minor flaws but are acceptable in international trade.
Of the components used in evaluating quality, 10% of the score is assigned to a variety's test weight and protein, while milling attributes receive 30% of the focus. The largest consideration is end-use functionality (baking performance), where 60% of a variety's score is assigned. The scores are reviewed yearly, as new data becomes available, and are subject to change. Varieties not listed have not been tested or have less than three years of data. For complete results, please visit the website at wwql.wsu.edu.
All classes have shown improvements in quality since the G&E study first began gathering data in 1997. The Preferred Wheat Varieties list is provided courtesy of the three Pacific Northwest wheat commissions: the Washington Grain Commission, the Oregon Wheat Commission, and the Idaho Wheat Commission.
Alica Kiszonas, U.S. Department of Agriculture Agricultural Research Service Research biologist, contributed to this article.