By Lori Maricle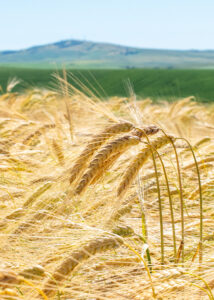 I don't have to sing it for you. A television commercial shows a pristine vista of a mountain on a quiet day, and a motorcycle drives across the screen. I'm guessing you may already be doing the sound effects, revving "Rainier Beer" like a kid racing a Hot Wheels along the back of the couch.
Before Budweiser used frogs in its advertising, before Prohibition even, Washington state has been a hotbed of innovation for the American brewing scene. According to an extensive history of the beer industry in Washington compiled by Michael Rizzo in "Washington Beer: A Heady History of Evergreen State Brewing," the state also led the microbeer trend, which came to be known as craft beer, in the 1980s and 90s. As local brands like Rainier, Olympia and Lucky Lager faded, in their place was a wave of Washington innovators. Then began an India pale ale (IPA) craze that is still in its crescendo across taps nationwide, with brands like Fremont, Georgetown, Icicle and No-Li quickly becoming local favorites with expanding popularity.
According to the Washington Beer Commission, there are 426 breweries in Washington, and 130 cities in our state have at least one brewery. Part of what makes Washington such an advantageous place to brew is the extensive and active network of brewers.
"The number of brewers who came out of Thomas Kemper Brewery, Pike Brewing Company or Big Time Brewery, or countless others, shows how the industry has fostered its own growth," writes Rizzo.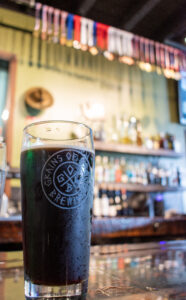 The Washington brewing scene, "walks the walk as far as community," says Mike Hunsaker, head brewer at Grains of Wrath Brewing in Camas. Washington is very open and welcoming as far as its brewer support and education. According to Hunsaker, it's "like nothing I've seen. I wouldn't want to leave it."
Another part of what makes Washington a great place to brew is the state's excellent agronomy and diverse agriculture industry.
"The Pacific Northwest region is incredibly well suited for growing the crops we need to produce world-class beer," Theo Muller, a brewer at Urban Family Brewing in Seattle, said. "We have the highest quality ingredients in the world, right here. We are looking at what are the interesting things we can do to make our stamp on the world."
Building blocks for better beer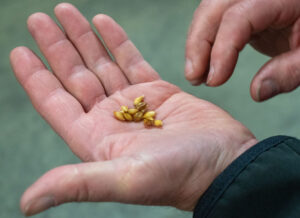 Malt, made predominantly from barley that has been germinated and then dried, is the main ingredient in beer, besides water. The other two basic ingredients are yeast and hops. Malt provides the starch and enzymes that make alcohol through fermentation. Hops are added as flavoring to offset the sweetness of the malt.
"I wish more people talked about malt," said Chris Baum, head brewer at Varietal Beer Company in Sunnyside. "Hops get all the love."
It's true that hops take center stage in recipes such as American or imperial IPAs, but the foundation that malt brings and how that framework influences final flavor quality is getting more and more attention from craft brewers and scientists alike.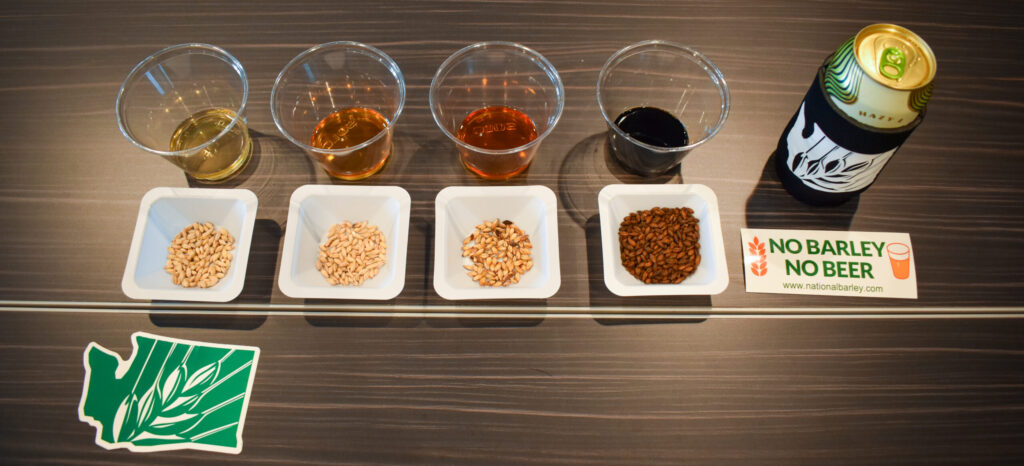 A study at Washington State University in 2021, published in the Journal of Food Science, showed that malt imparts a range of desirable flavors in beer. While trained tasters can easily distinguish between different malt barley genotypes, the untrained panel of craft beer drinkers in the study could discern differences among the five beers tested. Each beer was brewed with the same Tahoma hops but with a different barley variety. According to one of the Washington State University (WSU) researchers, malt-forward beers have the potential to spur the next evolution in craft brewing.
Washington-grown barley
About 75% of the hops grown in the U.S. are from Washington state. But what about malt? Washington ranks sixth among the states for barley production. The leading barley-producing state is Idaho.
"Sourcing grain locally is a very intentional decision for us. It's one of the ways we support our local community and bring a sense of place or terroir to our product," said Erick Adam, head brewer at Penn Cove Brewing Co. in Coupeville.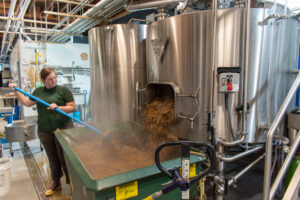 Terroir is a French term referring to the soil, topography and climate that affects taste and flavor in food crops grown in a specific environment. It is most commonly used in the wine industry but is relevant to any crop that takes on characteristics from the place it is grown.
"There are some factors that we can't control on terroir for some packaging, but where we can purchase Washington, we do," said Leslie Shore, head brewer at Pike Brewing Company in Seattle.
According to the U.S. Grains Council, about three quarters of U.S. barley produced is used for malt and food barley, but in Washington, malting barley accounts for only about 10 percent of the state's production total. The other 90% is used for animal feed.
"We love Baronesse malt and try to sneak it into recipes where we can," said Bryan Copeland, brewer at Wet Coast Brewing Company in Gig Harbor. "In fact, it just made an appearance in our Helles Lager." Baronesse is a European barley variety that has been grown locally for many years due to its yield compared to Copeland, which is the top barley variety grown in Washington.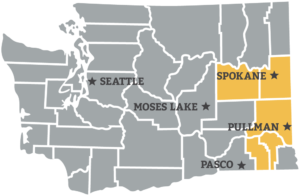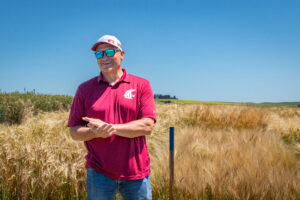 The top five barley-growing counties in Washington are Whitman, Lincoln, Spokane, Columbia and Garfield. According to the U.S. Department of Agriculture, Washington harvested 70,000 acres of barley in 2021, and the state is projected to harvest barley off 75,000 acres in 2022. While up from last year, the number of acres planted to barley since 2011 has been on a downward trend. However, the Washington Grain Commission (WGC) and Robert Brueggeman are hoping to change that.
Part of the WGC mission is advancing quality and competitiveness of small grains. We do this by funding research and by participating in activities that develop and expand markets for Washington-grown wheat and barley. One of the seven WGC-funded endowment positions at WSU is the Robert A. Nilan Endowed Chair in Barley Research and Education. Since 2019, it has been held by barley scientist Brueggeman. Brueggeman is working to develop new malting barley varieties, tailored to the specific growing environment of the Pacific Northwest.
"In the future, we plan to create specific brands that focus on local ingredients, and those beers will utilize locally grown and malted barley," said Dru Seed, head brewer at Hops & Seed Brewery in Snohomish.
The WGC is striving to build awareness around the potential for Washington-grown malting barley to contribute to mainstream brewing and the Pacific Northwest (PNW) craft brewing industries. Meanwhile, Brueggeman is developing new malting barley varieties suited for PNW growing regions to produce both high quality and yield. Together, the two organizations are hoping to bring malting barley back to Washington as more craft brewers are focusing their recipes on locally grown and malted ingredients.
You can do your part, too: drink Washington beer!