The Washington Grain Commission (WGC) promotes the small grains industry through the allocation of farmer checkoff dollars in the areas of research, market development and education. When it comes to promoting our wheat in international markets, the WGC works directly with U.S. Wheat Associates (USW), which is the export market development organization for the U.S. wheat industry. USW activities in more than 100 countries are made possible through grower contributions from 17 state wheat commissions (including Washington) and cost-share funding provided by the U.S. Department of Agriculture's Foreign Agricultural Service. This Wheat Life series features some examples of how your commission checkoff dollars are working hard to promo te, grow and maintain demand for the high-quality U.S. wheat the world has come to rely on.
Colombia
Wheat market overview
Colombia wheat imports are duty free from the U.S., Canada, the EU and the South American trade bloc known as Mercosur. Average wheat production in Colombia has decreased significantly over the last 40 years, currently under 3.7 million bushels per year, which makes Colombia dependent on imports.
Given that Colombia produces an insignificant amount of wheat each year, wheat consumption is equal to imports at about 66 million bushels annually. Wheat imports from all origins have steadily increased from 51.4 million bushels in 2010 to nearly 70 million bushels in 2021.
Colombia's U.S. wheat imports include:
Hard red winter, making up 35 to 55 percent of total imports.
Soft red winter making up 40 to 50 percent of total imports.
Soft white, which has been increasing and now makes up 4 to 8 percent of total imports.
The U.S. export regions include the Gulf of Mexico, followed by the Pacific Northwest (PNW) and Atlantic ports.
More than 70 percent of imported wheat is used for bread and pastry flour, which is in alignment with the average for the South America region (69 percent). Imported wheat used for cookies and crackers is 14 percent, slightly higher compared to 8 percent in South America. Wheat for pasta, at 11.5 percent, is also in alignment with the regional average. Household baking flour accounts for 4.5 percent of imported wheat.
However, overall bread consumption is low at 58 pounds per capita annually, compared to Chile's annual per capita consumption of 198 pounds. One reason for the low consumption is that Colombian bread typically contains large amounts of shortening, which makes it very heavy, difficult to digest, and not appealing to many consumers. Data shows that 94 percent of Colombians consume bread only at breakfast. The other major staples are rice, arepas (corn buns), banana, manioc and corn tortillas. Consumers prefer artisan breads, which represent 91 percent of the bread market, whereas packaged pan bread (9 percent) is typically used only for making sandwiches. The largest bread consumption area is the central highlands around Bogotá, accounting for 80 percent of total daily consumption.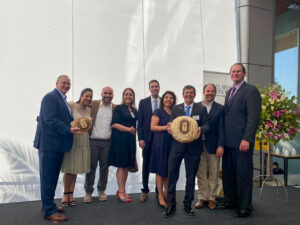 Pasta in Colombia is produced with bread wheat, with small amounts of U.S. or Canadian durum used for premium pasta. Pasta is often included as a side dish to rice or as an ingredient in soups, but most consumers do not see it as a main dish. This contributes to Colombia having a low 10 pounds per capita pasta consumption compared with 22 pounds in Peru and Chile. Consumer campaigns conducted regularly by the major pasta companies include promoting the healthy aspects of consuming pasta and releasing new products such as whole wheat and flavored pasta.
There are six major companies producing cookies and crackers in Colombia. Like pasta, per capita cookie consumption is 10 pounds and lower than neighboring countries, including Brazil (14 pounds) and Chile (13 pounds).
In the 1970s, Colombia's wheat production averaged 3.7 million bushels per year, but the calendar year 2021 estimated production was just over 220,000 bushels. Wheat is not a profitable crop in Colombia due to low yields and inadequate climate. Most wheat farms do not exceed four acres, and areas of production are concentrated at 9,000 to 10,500 feet above sea level in the central and southern areas of Cundinamarca, Nariño and Boyacá. The mostly soft, low protein wheat is consumed locally in rural areas, mainly in soups or as an ingredient in traditional dishes.
Colombia has a diversified flour market, with 24 milling companies and 40 mills. The highest concentrations of mills are in Cali, Bogotá and the coast (Barranquilla and Cartagena). Total annual milling capacity is 88 million bushels, and capacity utilization is estimated at 76 percent.
Millers are working with bakers to introduce new bread products, which may help consumption to grow faster as the economy improves. Colombia is estimated to have around 25,000 bakeries. Small bakeries have 80 percent market share, while large- and medium-sized bakeries, including self-service bakeries in supermarkets, comprise the remaining 20 percent. Consumption is being stimulated by growth in the supermarket sector, which is expanding through consolidation and modernization. New stores now offer a wide variety of fresh bakery products, options that the small bakeries should imitate if they expect to be competitive.
Market outlook for 2022/23
The U.S. has typically supplied between 35 to 40 percent of Colombia's annual milling wheat imports, depending on Canadian wheat prices. Duty-free access and the proximity of U.S. ports allows wheat to compete effectively with other suppliers, especially Canada and Argentina. U.S. Wheat Associates (USW) works to maintain this market share with help from Washington and other state commissions.
Main activities include working with main commercial wheat suppliers in Colombia to increase U.S. wheat offers from the PNW and the Gulf of Mexico and providing technical support to major Colombian bakers to encourage them to incorporate U.S. wheat as a quality product ingredient. USW also works to establish relationships between PNW traders and soft white wheat buyers in Colombia, promoting more purchasing alternatives to Colombian customers. It is important as well to work with the technical staff of the Colombian mills in order to better understand their needs and design programs oriented to increase the ratio of U.S. wheat.
A market development success story
USW attended the Americas Agricultural Cooperators Conference, organized by the U.S. Soybean Export Council in September 2021 in Guadalajara, Mexico. Other collaborators involved included USA Rice and the U.S. Grains Council. The conference included internationally recognized speakers, subject matter experts, farmer/grower leaders, and industry experts to discuss the market outlook, sustainability, animal nutrition, freight, logistics and other topics. The meeting included over 130 in-person participants from 14 countries and approximately 100 virtual participants from throughout Latin America. USW gained a better understanding of the marketing and commercialization process of the other collaborators, possible opportunities for shared activities, and common strategies. USW invited Alberto Guarin, purchasing manager and owner of Molinos del Atlántico, part of the Guarin Group and the largest milling company near Colombia's Caribbean coast. USW's goal was to connect him with wheat and sooy traders, providing additional opportunities to buy U.S. wheat. As a direct result of USW's sponsorship at this conference, upon returning to Colombia, Guarin Group bought one shipment of 30,000 metric tons (1.1 million bushels) of hard red winter wheat, valued at more than $8 million. According to Guarin, the purchase was due to USW and traders' recommendations at the conference in Guadalajara.
The success of USW Santiago technical activities in Colombia using soft white wheat is related to funding support from Washington, Idaho and Oregon. One good example is the father-son duo of Andrea and Andres Saturno. Andres has been integral in providing technical support from the milling process to end-product evaluation and giving clients the ability to obtain flour within the parameters necessary for each end product. Andrea helps customers to understand the benefits of using soft white wheat in flour blends for baking purposes. These activities have generated increased imports and additional requests from customers to perform more trials to gain technical and quality information. Read about the Saturno family's story on the USW blog at https://bit.ly/39SCSBe.
The challenge that mills in South America face is their laboratories don't have access to many rheological tests, which provide important information about the technical specifications of flour throughout the milling and baking processes. Contributions from Washington and other state grain commissions for Andres Saturno as a technical expert, and now technical manager, together with funds from the U.S. Department of Agriculture's Agricultural Trade Promotion program, have made the wish for new laboratory facilities in Santiago a reality. This laboratory is already helping USW Santiago to perform activities and produce value propositions for our different customers in the region. Read more about it at https://bit.ly/3kX34gb.
On the street
A note from a satisfied customer