From the U.S. Grains Council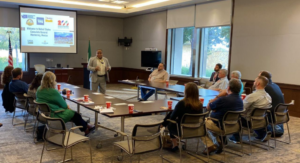 Representatives from four barley states, including Idaho, Montana, North Dakota and Washington, traveled to Mexico last week with the U. S. Grains Council (USGC) to promote the U. S. commodity to Mexican barley and malt importers. The group participated in the annual Cerveza Mexico Expo in addition to various industry meetings.
The Council' s Mexico office has a longstanding relationship with several major brewers and snack food production companies in the country, allowing the organization to act as a bridge between U. S. barley producers and Mexican procurement partners.
Besides visiting the major breweries and following the lead from our barley growers, we visited major global Mexican- based food companies to explore the possibility of the use of barley as a food ingredient and understand the needs of these companies," said Javier Chavez, USGC senior marketing specialist in Mexico.
The mission began in Monterrey, where the team met with a variety of groups to discuss the potential for expanding use of U. S. barley in each companies' operations. The USGC team provided details on contracting, sustainable practices used on the growers' farms and opportunities for barley inclusion in both the brewing and snack food sectors. Additionally, the team met with the Agricultural Trade Office ATO) in Monterrey to gain a better understanding of the relationship between the U. S. and Mexico.
In Mexico City, discussions on malt barley procurement continued, as the team met with another major brewer and local organizations, including the National Chamber of the Beer and Malt Industry and the Association of Craft and Independent Brewers of Mexico (ACERMEX). To wrap up the mission, the group participated in Cerveza Mexico Expo, further exploring the world of beer in Mexico and gaining a better understanding of how U. S. barley can play a role in the industry.
With several new producers on the program, it was a great opportunity for them to be immersed in the Council' s barley programming and see firsthand the value in our ongoing collaboration with partners in Mexico. During the industry meetings, producers were able to address current market challenges like the importance of forward- contract timing, logistics and pricing as well as discovering new opportunities for barley in niche markets including human consumption," said Sierra Richey, USGC manager of global programs.
Mexico was the top importer of U. S. barley and barley products in the 2022/ 2023 marketing year, and Council staff looks forward to continuing to build relationships in Mexico to increase opportunities for U. S. barley.
The U. S. Grains Council develops export markets for U. S. barley, corn, sorghum and related products including distiller's dried grains with solubles (DDGS) and ethanol. With full-time presence in 28 locations, the Council operates programs in more than 50 countries and the European Union. The Council believes exports are vital to global economic development and to U. S. agriculture's profitability. Detailed information about the Council and its programs is online at www.grains.org.