By Kara Kaelber
Now in its 16th year, Wheat Week has proven to be a staple in many teachers' classrooms across Washington state. Reaching over 1,000 teachers each year, Wheat Week not only teaches students about the importance of wheat, but also the adults in the room and at home. While Wheat Week is geared toward 4th and 5th grade students, it wouldn't be possible without teachers inviting Wheat Week educators into their classrooms each year for an entire week to educate them and their students about wheat. This fall, I had a chance to talk with three teachers and ask them how they feel about the Wheat Week program.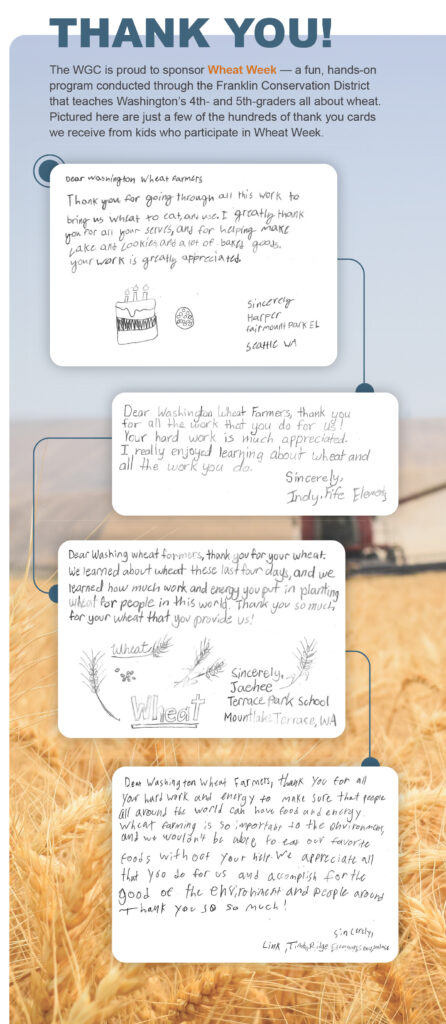 Krista Kelly, a 4th grade teacher from Fairmount Park Elementary in the Seattle School District, has invited Wheat Week into her classroom for the past 12 years. Even through COVID-19, Kelly continued to offer the virtual Wheat Week program to her students. According to Kelly, "Wheat Week is a great addition for both social studies (economy and geography) and science." She enjoys the consistent schedule for the week, so it's a special time for the students. She appreciates how the program is a focused week and not a one-off, like other programs offer. Kelly mentioned her favorite part of Wheat Week is how it touches on many areas of their curriculum but also connects the city kids to eastern and central Washington. "Students don't understand what the environment is like in those regions and how the economy is based around farming, so Wheat Week helps give them a new perspective." Some of her students' favorite parts of Wheat Week are growing the wheat, harvesting the wheat, and, especially, tasting the wheat.
Lisa Woodside, 4th grade teacher from Adams Elementary in Seattle, has also offered Wheat Week in her classroom for the past 12 years. From her perspective, the students love a guest teacher, and they especially love growing wheat. Before Wheat Week came to her classroom, she didn't understand the magnitude of wheat production in Washington, and she didn't realize wheat is shipped down the Snake and Columbia rivers. She draws the connections for her students when they're learning about energy. She emphasizes the energy wheat gives the student (through foods), as well as the energy required to ship the wheat from field to table.
Sarita Benson, a 4th grade teacher in Shoreline School District (just north of Seattle), has had Wheat Week for the past five years. According to Benson, "I love the structure of Wheat Week, and I love the lessons!" She emphasized how Wheat Week ties into their science curriculum, which focuses on water, land and erosion, but also ties into their study of Washington state. When she found out about Wheat Week, she was so excited because it was a real-life example of all these subjects.
Benson mentioned one of the reasons she really likes Wheat Week is how it connects to their study of the different regions of Washington state and especially the Columbia Plateau. The students learn that wheat is grown in the Columbia Plateau, but these are kids from the city, and they don't really know what wheat looks like.
According to Benson, "The growing of the wheat, the threshing of the wheat, seeing how it ties into the food they eat, and looking at the science that is required to bring wheat to them in its various forms is all so important. Wheat Week provides a real-world experience, and they (students) can tie it into their life and into their science learning and their understanding of our state."
I knew teachers liked Wheat Week, since my Wheat Week educators' calendars are full each year, but until I had the chance to speak one on one with them, I didn't fully understand how valuable and important Wheat Week really was to them.
When I asked Kelly if there was anything else she'd like to tell me about Wheat Week, she paused and began to get choked up. Speaking through tears, she said, "I just want the farmers to know that their contributions to this (Wheat Week) matter. I want the people who are contributing to this, money and time, to know that it's valuable learning." She had me in tears as well. I would also like to thank the Washington wheat farmers for allowing us to educate students and teachers on the importance of wheat, and how important wheat farmers are for our communities, state and the world.
Read more about Washington Wheat
The Washington Grain Commission is proud to sponsor Wheat Week! Learn more about Washington wheat from this WGC publication put together specially for the Wheat Week program.