By Seth Truscott

Crop and soil scientist Surendra Singh will lead research into better agriculture for the Inland Northwest's arid country as the new dryland cropping systems agronomist and next director at Washington State University's (WSU) Lind Dryland Research Station.
Starting in early April 2023, Surendra Singh replaced longtime agronomist and director Bill Schillinger, who retired in early 2022 after 29 years at the Lind Station.
New ideas for arid farmland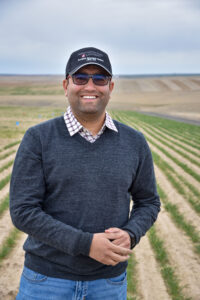 Averaging less than 12 inches of rain per year, Lind is one of the driest places to farm in Washington and, indeed, anywhere. Established in 1915, 1,300-acre Lind Station serves the state's low and intermediate rainfall zones, with wheat breeding, weed and disease control, rotation options, agronomic management, and soil fertility among top priorities.
Work at Lind and in long-term soil health is crucial, Surendra said, because it directly addresses current and future needs for regional farming.
"Dryland wheat production in Washington is not only important from an economic standpoint, but also for global food security," he said. "As rainfall patterns change, costs of fertilizers and other inputs rise, and weed and pest pressures increase, research at Lind and WSU keeps us ahead and ready."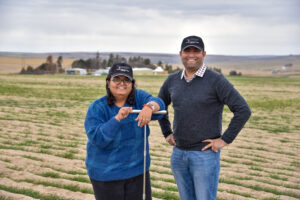 Originally from India, Surendra earned his doctorate in soil sciences from the University of Tennessee. Since 2020, he has led or collaborated in research projects on cropping systems, soil health, farm profitability, and weed management for dryland farming systems at Oregon State University's Columbia Basin Agricultural Research Center in Pendleton, Ore.
"An agronomist is a 'jack-of-all trades' who must be able to evaluate the impact of changing rotations on crops, soil, pests, economics and other aspects of agriculture," said Rich Koenig, chair of WSU's Department of Crop and Soil Sciences. "Surendra is well-versed in design and implementation of complex rotation experiments and brings a wide understanding of how to measure impacts of changes on the entire system. His breadth of experiences in research and
different crops really stood out."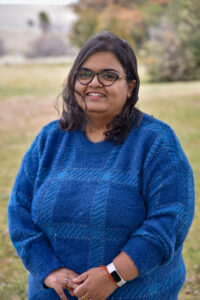 Long-term research
Surendra's spouse, Shikha Singh, also joins WSU as a research assistant professor and soil scientist, taking part in a new long-term soil health research in Eastern Washington.
Also starting in April, Shikha will help lead a new, long-term soil health project with researchers at WSU's Wilke Research and Extension Farm near Davenport, Wash. She will assist lead scientists, Aaron Esser and Haly Neely, in assessing past and future changes in crop rotations on yields, soil health, weeds and overall economics.
Shikha holds a doctorate from the University of Tennessee and was most recently a post-doctoral scholar at Oregon State University's Hermiston Agricultural Research and Extension Center, where her research focused on carbon and soil health in irrigated systems.
"My vision is that we continue to farm for many more generations to come and feed the world," said Shikha, who plans to use her training and research experiences in soil carbon and health to support regional growers and complement her colleagues' strengths.
"Shikha is an accomplished soil scientist and will add to our growing core strength in soil
health," Koenig said. "She is already connecting with other recent hires in crop and soil sciences and will make broad contributions across dryland and, potentially, irrigated systems as well."
This article originally appeared in the Feb. 21, 2023, WSU Insider and was republished in the May 2023 issue of Wheat Life Magazine.